Tree fragment finder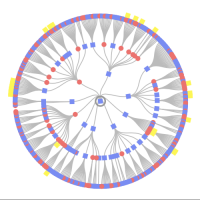 Surname study groups need a way to find and track fragment trees, meaning to find every person with surname X who does not have a parent with surname X: those are tree heads.
Surname researchers are always dealing with brick walls, usually many: many heads of immigrant families not attached to families of origin in their Old Country. By looking at all historical records of all persons with surname X we often can solve most of the brick walls without ever hitting them.
I find these tree heads manually and once they are found, I follow them. This is a very crude approximation of what I would like to be able to do, and I cannot easily share my follow list with collaborators. I need a tool to do this finding and following task systematically, and periodically update, so I can watch the progress of a project. It could be on an external partner site, as an API.
I would like the tool to tell me how many heads there are, the PID of each head, the size of each descendant tree, and the size of each descendant tree pruned to only those with the surname of interest. For large surnames I really need some frequency graphs of count by tree size.
I also need a tool to tell me statistics about historical records for a surname attached (or not yet attached) to profiles for a surname of interest.
I want to gather such tools into a project dashboard for a FT surname study. I have been prototyping dashboard content on the FS wiki: https://www.familysearch.org/wiki/en/User:Dontiknowyou
Tagged:
Comments