Localize place names and dates in Family Tree for better UX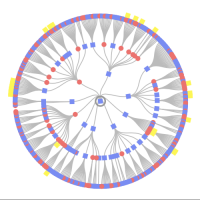 Collaborating contributors who use different language interfaces are experiencing a frustrating user experience (UX) problem due to incomplete language localization.
The attached 2 screen shots of the same profile Edit Birth box illustrates the problem. Briefly: Contributor X standardizes dates and places in the German interface, that is using German localization. Contributor Y using the English language interface sees the dates and places still in German, and furthermore the interface suggests the dates and places need to be standardized into English. Checking several other language interfaces, the same lack of appropriate language localization appears to be everywhere.
The provision of language localization of dates and place names is a major reason why it is important to standardize these data. The current lack of this language localization is causing unintentional edit warring and bad feelings between contributors.
What should happen: standardized dates and place names appear (are displayed) in the language localization selected by the person viewing Family Tree, and the "standardized" icons, the calendar and map pin, appear in the editable text fields across all language interfaces to Family Tree. As an example, a standardized date will appear as expected in each language:
English: 1 December 1814
Italian: 1 dicembre 1814
German: 1. Dezember 1814
Russian: 1 декабря 1814 г.
The problem here actually is that the date and place name are standardized but (1) the user interface is misleading and (2) the standardized date and place name are not language localized.
A helpful Helper assured me a post here will be seen by FT engineers. Cheers!
Comments