www.familysearch.org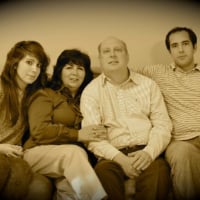 SEARCHING FAMILYSEARCH MEMORIES
I dont know how many of you received an email from FamilySearch - related to this apparent "campaign" to make more people aware of the treasures you can find in FS Memories (of images/documents/pdfs that have been posted by others)
Here was the text of the email:
Family, your family name may be in our image collection
Family, discover photos with your family name!Do a quick search for your last name in our millions of free images and documents, and see what you discover. Some of these individuals may even be your relatives!Search by Name
Doing a surname search of FS Memories is a cool thing - you can find lots of interesting info.
HOWEVER - MOST users have common enough surnames that the query result - ends up in THOUSANDS or TENS of THOUSANDS of results. With so many gazillion items that people have uploaded in FS Memories - it is difficult to find an item with a specific topic using just one search term.
Usually a specific item you want to isolate may take 2 or 3 search terms all existing on the item in question - for you to actually find such an item.
Thus It is important that you know how to do a COMPOUND search query
Compound Search Queries (looking for items with BOTH terms)
you can execute using either use the AND function or the "+" option
example - for searching for a Yancey Family Bible
YANCEY AND BIBLE (AND in upper case)
OR
+YANCEY +BIBLE ( no spaces after +)
it is also important that if you use the AND operator - that you type it in UPPER case
True - "AND Compound searching" requires that the AND be in upper case
Here are some sample searches (using the Yancey name - that you can replace with YOUR surname of interest)
YANCEY AND BIBLE
YANCEY AND FAMILY
YANCEY AND LETTER
YANCEY AND PROBATE
YANCEY AND CENSUS
YANCEY AND HISTORY
YANCEY AND IDAHO
YANCEY AND CAMPING
YANCEY AND WILLIAM AND HENRY
YANCEY AND WEDDING
YANCEY AND FUNERAL
Here is the link where you can execute the search
https://www.familysearch.org/photos/find
@How to Use FamilySearch Community​ 
@FamilySearch Family Tree​ 
@Roger Allen Bell​ 
@FamilySearch Tips and Tricks​ 
@Germany Genealogy Research​ 
@France Genealogy Research​ 
@British Isles Family History Research​ 
@Yancey/Yancy Family Genealogy​ 
@Family Bibles​ 
@Community Group Leaders​ 
@United States Genealogy Research​ 
Comments