Placeholder profiles, good and bad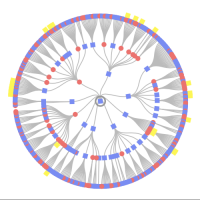 My intention in starting this discussion is to explore the uses (and misuses) of placeholder profiles in Family Tree. Placeholders are used to gather as "children" the profiles of persons who are not siblings and may not be related at all.
So that no one feels I am pointing accusatory fingers at others, or drawing unwanted attention to them, I will focus on my own work.
I had included images but apparently when a draft is saved any images in it are not saved. Tags are not saved either.
Placeholder profiles in Family Tree
I am working on multiple surname studies. Part of my process is to systematically attach every historical record in FamilySearch to a profile in Family Tree. By necessity, this means I create many profiles. I also fully standardize event dates and places. This makes a significant difference to Find results and hints, especially hints about duplicates. I merge duplicate profiles and split conflated profiles. When splitting I take care to detach sources and delete events that do not belong to the deconflated profile. Because I take so much care with profiles, the research hints Family Tree provides usually are correct. They save me huge amounts of time and effort I would otherwise spend searching.
Merging and splitting tends to build Family Tree significantly, and I get nice messages from contributors thanking me for busting resistant brick walls that have frustrated them. Basically, I approach the wall from the other side. This tree building is exactly why surname studies appeal to me. See this 1 minute video from The Guild of One Name Studies: https://www.youtube.com/watch?v=jFfhh7_OJ_Y
Then, as nearly the last step, I Find and Follow all profiles without a parent or husband of the same surname. (I can find no tool anywhere for this; so this tool is a feature I have requested several times to FamilySearch and also Puzzilla.) I page through Find results, a very tedious process. Years ago I hit my limit of 4000 profiles followed, so I began gathering them under placeholder profiles and watching just the placeholders. I tried placeholders grouped variously by time period, place (nation, state, county, village), and given name. I found given name by far the most useful, so now that is all I use.
I also experimented with how best to name the placeholder. I settled on the given name PROJECT and surname. I put the actual given name in the Suffix field. Gathering by name is most useful because most duplicate profiles have the same given name. If you use the new person page view, you can set an Alert flag on the Note explaining that the profile is a placeholder. See for example PROJECT Crandall Ellis : https://www.familysearch.org/tree/person/details/GXH1-XVZ
A major advantage of using placeholder profiles in Family Tree is the collaboration. All contributors can use them, and I encourage other contributors to do so. If they can find a parent and thus detach a profile from the placeholder, I see that change in my Following list and I thank the contributor.
A major disadvantage of using placeholders is that they create false distant cousin relationships. Anyone is welcome to build any part of the public Family Tree. However, there is a private, confidential extension of Family Tree that is used by LDS members. LDS members are supposed to use that private system to do ordinance work on only their own relatives: their own ancestors and descendants of their ancestors. LDS members are not always very careful about evaluating Family Tree before doing ordinance work. My view is this is entirely on them, not on anyone else.
In the case of household records including a young niece, nephew, or cousin, but the parents of these children are unknown, I simply create a profile for the unknown parent sibling. Often, to do this it is necessary also to create a profile for at least one grandparent. These profiles are not placeholders, merely incomplete. If I can infer an unknown parent's sex and surname, then I have enough information to create a reasonably detailed profile because I can also infer an approximate birth year (I use a decadal year about 30 years earlier than the birth year of the child), birthplace, and/or residence place in the year the child was born. When I make an incomplete profile like this, very often FamilySearch soon offers historical records to document the parent.
Additional companion tools I use to do surname studies in Family Tree
I use my Following list very heavily. Because I am involved in a lot of different projects, some very large and with many collaborators, I can only follow placeholder profiles, heads of fragment trees not gathered under placeholders, and a select few other profiles with problems such as conflation. If no other contributor does the work needed, eventually I will get to it. Almost all changes I see by others in my Following list are good changes, and when the changes are not good that's a sign the contributor needs support. Either way, my Following list is not a source of aggravation.
I use the Family Tree partner website Puzzilla.org. A $40/yr paid subscription gives access to a new Research Log tool that is similar in some respects to the Following list on Family Tree.
To support my collaborations with other contributors I put work-in-progress notes in my pages on the FamilySearch Research Wiki. For example: https://www.familysearch.org/en/wiki/User:Dontiknowyou
I use Family Groups, although this new feature is so far proving very limited and difficult to use. It seems to be built on top of FamilySearch Messages, which also has issues of usability and reliability.
Comments