Tree view ancestor like descendant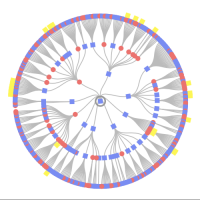 I would like to be able to see the ancestry tree in the same compact style as the descendancy tree. Benefits of this tree style include:
Works even with very large trees.
Useful to work offline; user can collapse and expand parts of the tree as needed, and print to PDF. If the tree is large, the PDF simply runs many pages long, but all the text is readable.
Searchable on the web interface using the web browsers' built in search function.
Tagged:
Comments