How much information can I cram into a single PDF file??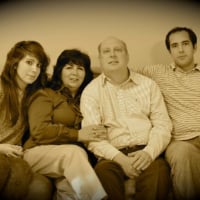 How much information can I cram into a single PDF file I am uploading to FamilySearch??
For those of you uploading items to FamilySearch Memories -- you will really see the value of grouping a bunch of items/pages/photos into a single PDF file and have them retain their order and connected nature - instead of having a multitude of disjoint image files that you have to upload and not being able to control order or grouping.
HOWEVER many of you also may quickly run into the scenario that your pdf files are bumping up into the 15MB file size limit. I don't know if FS will ever raise that limit or not. BUT there are numerous techniques and guidelines for uploading large items while staying under the size limitation.
There is no single answer as to how many pages you can fit into a 15MB pdf file. Because it depends on so many varying factors. In short , if you are just dealing with TEXT based information you should be able to fit a much larger number of pages into the document versus if you are dealing with image files - especially if such images files are of a high resolution such as coming from a 600dpi scan.
For example if you have a document in a word processor that is pure text (like some transcription of a journal or diary, or maybe a genealogical report generated by some PC based genealogy program). You can actually fit a pretty amazing number of pages into a single pdf if you use the right tips and tricks.
https://www.familysearch.org/photos/artifacts/158125480?cid=mem_copy
Take a look at this nearly 3.000 page pdf document uploaded to FS Memories (above link). A descendants chart that goes down to 10 generations. This was generated by RootsMagic using its reporting capabilities. BUT the default "save to pdf" resulted in a document over 100MB in size. The reason the file takes up so much size is the the storage methodology does not take into consideration compression algorithms. You dont really need to understand how compression algorithms work - but they allow for the same document to be stored in less digital space. The problem is most people don't know the steps to take advantage of compression algorithms in their pdf creations.
ILOVEPDF is a free online service that allows anyone to apply special processing against a specific PDF document. One of their tools is a PDF compression tool.
See their entire tool set here:
Using their PDF compression utility -- I was able to reduce the 100MB file to a file about 10MB in size -- and if you read it - you wont see hardly any difference.
NOW if you are dealing with pdf's with images - the more compression you apply the images will become less and less high resolution - to the point that eventually with enough compression the images will become blurry -- which you definitely don't want. BUT using some trial and error you can see how much compression you can apply and still get a good readble clear copy.
ILOVEPDF can compress both text and image pdfs.
it can also allow you to merge/split/rotate items as well as numerous other options.
How much info can you cram into a PDF
probably alot more than you are currently fitting - consider these techniques to help you pack more into a single document.
Let me know of any questions you may have. Its a subject that most all people could benefit from -- but few people have the experience.
Answers