Source counts in tree Descendancy View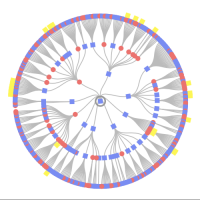 In the Fan Chart ancestry viewer I find the source counts legend very helpful. I wish it were provided also for the descendancy viewer. I also wish the descendancy viewer would go to 7 generations, so I don't have to open all the descendant branches by hand.
The sources label (flag?) could show the number of sources attached, and if 0 also show a red border.
A related wish is a feature to show how many sources connect each pair of spouses and each pair of parent and child.
Tagged: