Find tool strange behavior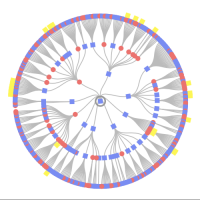 Currently, Find returns the same number of results regardless of selected sex or added family member. When these search parameters are used the only difference is the sort order of the results.
Here is an example:
https://www.familysearch.org/search/tree/results?count=20&q.anyPlace=Boston&q.sex=Female&q.surname=Gnade&q.surname.exact=on
The result is 3 profiles, one male despite selecting Female. One profile has a spouse with surname Miller. Enter Miller in the Spouse's Last Names field, and check its Exact Search box. The result is the order of results changes, putting the profile with Miller spouse first. Remove the sex: same 3 profiles. Select Male: same 3 profiles but the male profile moves higher in the results.
This is not the behavior I would expect when using these parts of the Find tool.
Tagged: