Distinguish spouses from children in Descendancy tree viewer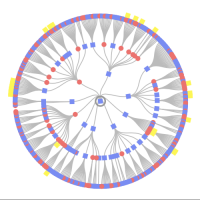 I am one of many contributors who spend a large part of our time on Family Tree doing heavy pruning and grafting: splitting and merging profiles, detaching supernumary and incorrect parents, etc. For this work I often use the marvelous Descendancy tree viewer.
In the Descendancy tree viewer I would like a small change to distinguish spouses from children, when the option to show spouses is turned on. For example, where spouses attach to the tree, just to the left of that point add a "+" or a short line extending to the left.
Here is an example tree, where the same man appears 3 times. I have added 2 red circles, on a spouse and a child, where I think some differentiation is needed.
Comments
This discussion has been closed.