Filter Last Names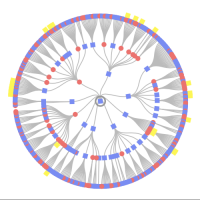 I love how search results filters have been moved forward in the new Search interface. The search bar on the filter menu is a very nice enhancement. Please add a filter: Filter by Last Names similar in concept to Filter by Collection.
This filter would produce an extremely useful list of name permutations: stems, soundalikes, lookalikes. So often brick walls are due to spelling changes.
Here is a use case. Inwinkelried is a very rare surname with just 32 exact matches in FS historical records, but 648,436 non-exact matches. How to find Inwinkelried and variant needles in a haystack this large? Doing this by hand is not practical.
Inwinkelried 32
Imwinkelreid 20
Winkelried 371
Winkelreid 57
Winkler 451,796
Winklereid 7
Winkleried 9
. . .
Couldn't this be implemented easily using the filter functionality?
[Edited to remove a tangent.]
Tagged:
Comments