Descendancy tree view add some features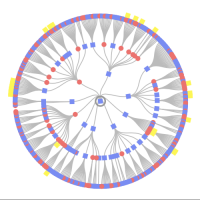 On the web interface I use the wonderful descendancy tree view almost constantly. I especially appreciate the ability to turn off the very distracting portraits. I wish for a few more features.
Ability to expand to N generations (however many are in the descendancy). Generations: 1, 2, 3, 4, All would be perfect. When I want to see them all I really want to see them all.
Option to Show number of sources (historical records) attached. The fan view has this option and I find it very helpful. Sources that are not historical records I prefer to discount or ignore.
Option to Show which persons I am Following. Also, ability to Follow/Unfollow them right from the descendancy tree view. I know left-clicking on the person's name will pop-up their info box and I can see how many sources they have attached and I can follow them there. But on big lineages this task involves too much repetitive clicking.
Option to Show labels I have assigned to persons I am Following.
Tagged:
Comments