www.familysearch.org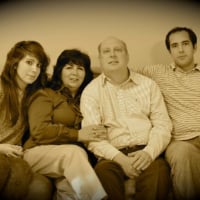 www.familysearch.org
Downloading family tree data from FamilySearch Family Tree
Every few days we get questions in the commmunity about how to download a persons family tree from FamilySearch Family Tree.
Recently Scott Hepworth brought up the topic and wanted to know how he could generate chart/database of the numerous descendants of of one James Arbon
https://www.familysearch.org/tree/person/details/KWJR-K11
There are some limited capabiltiy in FS to view a descendants report - but often people feel this is defficient - and are looking for a means to download the data to their local PC so they can analyze and manipulate the data with more ease.
Intrinsically FamilySearch doesnt have an option to download a portion of the Family Tree Other than "printing to pdf" one of the limited reports that are available.
However that being said - to accomplish this task/need - This task of downloading a portion of the family treee can, none the less, be accomplished rather easily and quickly using a 3rd parting program. Among those that have this capability are programs like RootsMagic, Ancestral Quest and a few others.
So rather than just give some abstract answer as to how downloads could be done - I feel to share a concrete example - and the output that was generated.
First I took the PID of James Arbon - and using the program RootsMagic - which is my primary genealogical program for locally stored genealogfical databases - I used the download from FamilySearch option and entered the PID and indicated I wanted 6 generations of descendants. I kicked off the process and a few hours later - had a database of about 5,000 people on my local PC - with no interaction needed in the process.
Then using the "out of the box" reporting capabilities of Rootsmagic - I generated a couple descendants reports for James Arbon.
here are the results - over 5,000 people in a descndants report
http://yanceyfamilygenealogy.org/James_Arbon.pdf
@ScottHepworth ScottHepworth​ 
@Yancey/Yancy Family Genealogy​ 
@FamilySearch Tips and Tricks​ 
@Family History Research​ 
@Yancey/Yancy Family Genealogy​ 
@Shirley Family Genealogy​ 
@Kavanaugh Family Genealogy​ 
@Nanney Family Genealogy​ 
@Kendall One-Name Study & DNA Project​ 
@How Things Work​ 
Tagged:
Comments