ANNOUNCEMENT: A Viewer For Windows (AV4W) V1.3 Just Released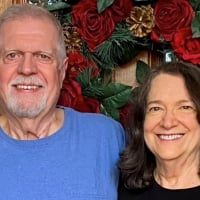 Rob Latour has released Version 1.3 of his FREEWARE A Viewer For Windows (AV4W) software.
https://www.rlatour.com/av4w/index.html?ar4w
If you have a 4K monitor and use A Ruler For Windows (AR4W), you should also update that software.
https://www.arulerforwindows.com/
The most significant new feature is that if you hold the Alt key while clicking on the Sharpen button, you will see a new filter design and testing window - shown below.
The filter matrices may now be up to 5x5 (upgraded from 3x3). You may also save and share filters and control two other parameters affecting the filter: the Factor (default =1) and the Bias (default = 0). In a nutshell: Each value in the Effective Matrix = Factor x (That value in the Listed Matrix + Bias). So, normally, The Effective Matrix = the Listed Matrix. because Factor = 1 and Biase = 0. But some filters are created with a Factor other than 0 for convenience.
You can see the results of a filter on any section of the image by panning in the little viewer preview window after left-clicking Viewer. Windows magnifier is also available. If you change a filter, you can see the effect (without saving it) by clicking Test. If you don't like the result, you can click Cancel to revert to the original filter (undoing changes you've made). In the image below, I have applied a so-called emboss filter. You will see why it has that name. I find that it can help me make out some names. You can see in the second image a drop-down showing my current filter library. Each filter is in a small file that you can share. As always with Rob's software, if you click on Quick Help, you will find an explanation of all the buttons here and on the main viewing window.
I like indexing or reviewing from the design window because I can tweak the current filter or try other filters in areas not well-handled by the filter applied to the whole image.
And, for those situations where a traditional Sharpen filter is not adequate, you can apply Free deblur software like DeBlur Software (DBS) or the free version of Smart Deblur and import the result into AV4W to use while indexing or reviewing. I've previously posted links to those sites. And you can even apply further filters to that enhanced image within AV4W, including perhaps smoothing it to lessen artifacts.
The image below shows the list of filters. It is the same data but with the original Sharpendefault filter applied. Rob calls it the Base Sharpening Profile.
Let me know if you have any questions or comments regarding this post or a suggested workflow involving AV4W, AR4W, and Web Indexing.
Rob also has a Community Support group where you're welcome to comment.
Answers