A Viewer For Windows by Rob Latour - De-Skew - Enhance - Sharpen Images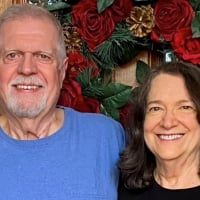 ANNOUNCEMENT: We've had several questions and suggestions over the years requesting a way to straighten tilted images and sharpen fuzzy images. Well, now we have a way to do these.
Rob Latour - an outstanding Canadian programmer - is the creator of A Ruler For Windows (AR4W), an excellent FREE alternative reading guide/ruler for Windows computers. Check it out at www.arulerforwindows.com. I suggest that you watch his video there. I've used and recommended AR4W for years. A user can adjust the length, color, width, transparency, and other reading guide attributes and even use it vertically. A user can create custom skins, a feature I have used to make floating "headers" for ledger- and census-type images. He even has a feature for making one color on a "skin" transparent.
THE HEADLINE: Rob has just released A Viewer For Windows (AV4W), an uncomplicated FREE Windows image viewer that allows the user to level/rotate a skewed/tilted image, adjust brightness, contrast, and other image attributes - and apply a sharpening filter. Check it out at
An Indexer could snip a batch image, paste it into AV4W, correct skew (Level), mitigate noise problems (Sharpen), and do other forms of enhancement, including what we can in our Web Indexing program. A "Pin to Top" feature allows an Indexer to resize and superimpose the corrected image on the Web Indexing image window and carry on indexing as usual, with the AV4W window always visible. A AR4R button provides a reading guide that stays on top of the AV4W window. I worked with Rob on developing this program, providing feature and design suggestions and testing.
BTW a hidden feature is that if you press the Alt button while selecting the Sharpen button, you get to set your own Sharpening filter (3x3 matrix). It defaults to
-1 -1 -1
-1 9 -1
-1 -1 -1
Here is another standard Sharpening filter, perhaps milder than the default.
0 -1 0
-1 5 -1
0 -1 0
You can do up to 3 passes, but one is usually enough. Two might be too much sometimes. And other times, it looks different/better but wouldn't beat an experienced eye. But give it a try.
Reminder: You can find the website for A Viewer For Windows here. This description has a double "for." I'm sure Rob will correct it shortly. Be sure to watch the instructive video (in Full-Screen Mode), and please "like it" afterward. Thanks
Here is a link to the support forum:
Answers