Conflict of interest behavioral guidelines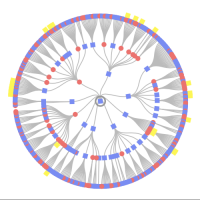 Slightly tongue in cheek, but only slightly...
Years ago English Wikipedia resorted to making behavioral guidelines against editing your "own" stuff. If only we had that on Family Tree. Someone starts yelling about "My tree!!!!!" and "You leave it alone!!!!!" and "You're not related!!!!" (Hello? Remember privacy?)? In response they get blocked. Personal attacks on other contributors? Blocked. Deleting relationships and sources and similar dirty tricks so others cannot find the tree? Blocked. Initial blocks can be brief time-outs: a few hours, a day, a week. Repeat offenders get longer and longer blocks, even permanent blocks. If they evade the blocks by creating new sock puppet accounts or editing as anonymous IPs then their IP addresses get blocked, and so on.
https://en.wikipedia.org/wiki/Wikipedia:Conflict_of_interest