www.familysearch.org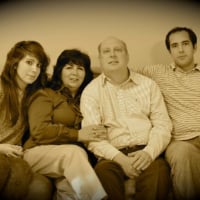 HAPPY VALENTINE'S DAY!!
Hope you all have a day filled with positive feelings and love and hope
What are some Valentine or LOVE related items that you have come across in your Family Research?
Here is one Valentine treasure among the Yancey Family
https://www.familysearch.org/photos/artifacts/60679489?cid=mem_copy
You may not recognize it for what it is. It is a LOVE LETTER between one William Yancey and his new wife Arvilla.
As you first look at it closely you will try to read it - but your brain will go blank - because it cant perceive what is written on the page. The writing has been "encoded" - but at the beginning you will not perceive how it has been written.
If you stare at it long enough - you may eventually perceive - how it was "encoded" so that only William and Arvilla could read it (easily).
Its a funny puzzle to solve.
See if you can solve it.
Dont ruin it for everyone else
message me privately if you think you have the answer.
what family treasures do you have? have you preserved them by uploading them to FS Memories
@Yancey/Yancy Family Genealogy​ 
@Family History Research​ 
@United States Genealogy Research​ 
@France Genealogy Research​ 
@Engaging Youth in Family History​ 
@FamilySearch Tips and Tricks​ 
@FamilySearch Family Tree​ 
Comments