Who can see what?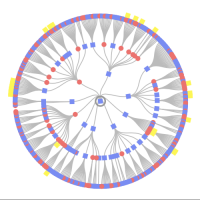 Hello all. I hope this question is not rude. Can LDS members see who else has reserved ordinances?
It seems I am a "rain maker" for some LDS members who like to do a lot of ordinances. I get messages from other contributors who imply I did ordinance work on their families. Some express appreciation but others seem rather put out. I did no ordinance work, but I hesitate to say anything because if who did it is supposed to be confidential, I don't want to enable someone using a process of elimination to find out.
I am a very active contributor to Family Tree and not an LDS member. Even if I were a member I would not do ordinances; I do what it seems few others can do. I do surname studies and I work mostly on defragmenting the tree, so merging duplicate profiles, detangling conflated families, and busting through brick walls.
This 1-minute video from the Guild of One Name Studies gives the general idea of what I do: https://www.youtube.com/watch?v=jFfhh7_OJ_Y