Community profile bug: can't link to my Discussions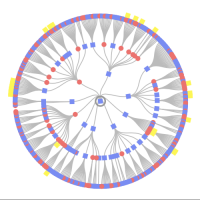 What works: From FamilySearch Help here on Community in the menu on page right I can link to my Discussions. I can also link to my Discussions from the popup menu under my profile button on the top right of all Community pages.
What does not work: From my profile I cannot reach my Discussions. I see that I have N discussions but when I click that link I see only a blank where the discussion list should appear. The More Discussions link has the same result: the page where the list should appear but no list.
I did a few tests: from the profile pages of others I can link to their discussion lists. So it is my own profile, not everyone's, that is not fully functional. Weird!
Tagged:
Answers