Search Historical Records: Type and Collections trade places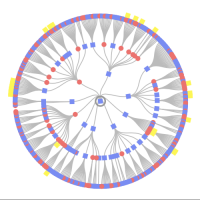 Mark LeMore shared that FamilySearch has published a new blog article for the search records page: Getting the Most from Your Search: Understanding the Search Records Page.
The blog article currently says if you want to find a birth certificate, try filtering by Collection and selecting all collections of birth records. I think it should mention instead try searching by Type. This especially if you do not know where the person was born, or the quirks of record collections; some collections contain records of several types. Type is under MORE OPTIONS: Record Options.
Setting a record type is much less complex and time consuming than selecting Collections. Also, this introduces novice searchers to the important concept of record type, which leads into the concept of collections of records of one type or another. Although Collections came first in the evolution of FamilySearch, and consequently so much more instructional material is available about them, they are in the deeper end of the pool.
The Search experience has a basic channel of search options then filters, and an advanced channel of more options then the same filters. I would swap Type and Collections, making Type a filter so it is in the main channel of experience and putting Collections in the secondary channel for experienced researchers. Or, on further reflection, I would put Type in both places and teach beginners to use Type rather than Collections in the filter.
Tagged:
Comments